The new flagship chip Tianji 9200 was released on November 8! Official announcement of the United Development Department
Source: Fast News
This morning, MediaTek officially announced that the new generation of Tianji flagship chips will be officially released at 14:30 on November 8.
In the official WeChat, MediaTek wrote, "How to define the next generation flagship benchmark? Is it top performance, ultra-low power consumption, or the ultimate game experience and audio-visual feast?" It is not difficult to see that this time, the new products of MediaTek Tianji are obviously well prepared, and the performance, power consumption and other aspects will be greatly upgraded.
Just yesterday, digital V@i Ice Universe exposed the first GPU score of MediaTek Tianji 9200. It was revealed that in the GFXBench 1080P off screen test of Manhattan ES 3.0, Tianji 9200 won 328 FPS, and the off screen test of Manhattan ES 3.1 was 228 FPS, with a maximum increase of more than 40%, and won the strongest GPU of Android. Not only that, the running score of Antu Rabbit released last week also confirmed that Tianji 9200 will receive a huge improvement: 1.26 million+in room temperature test, which is the highest running score of Antu Rabbit platform at present, and about 160000 points higher than the current flagship SoC Tianji 9000+.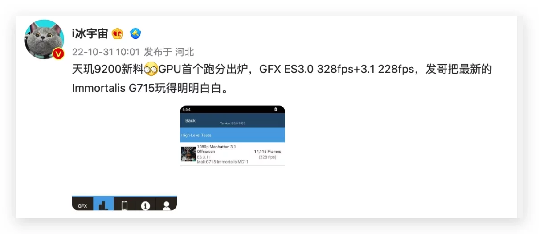 IT Home previously reported that the CPU architecture of Tianji 9200 was upgraded to a new generation of super large core Cortex-X3, and the GPU adopted the new flagship Immortalis G715. Among them, the X3 core is expected to improve the performance by 25%, and also greatly improve the energy efficiency ratio. In terms of GPU, the performance and energy efficiency of Immortalis G715 have also been significantly improved. Compared with the previous generation Mail-G710, the overall performance has also been improved by 15%, and the energy consumption has been reduced by 15%. The other highlight is that it supports hardware level ray tracing technology. It is understood that compared with software accelerated ray tracing, the performance can be improved by 300%, which can further bring more realistic game quality to the flagship mobile phone.
What are the highlights of Tianji's new product launch on November 8? We look forward to it!